Well Devon has been wonderful, weather has been sunny most of the time, the only problem is we have to go home tomorrow.
Yesterday we took a trip to Morwellham Quay, the location where the BBC filmed the recent 'The Edwardian Farm' documentary series. If you didn't catch it you missed a treat. Following a year in the life of an Edwardian farm the three presenters (each experts in their field) were based in the Quay and nearby farm while they experienced the riggers of rural Edwardian life.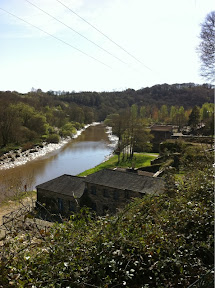 Visiting area as a tourist was great, there was plenty to do while the chance to visit the farm and cottage that were such a focus of the TV series was kinda cool. I wasn't too sure if they were keeping the farm as a going concern or if it had been mothballed after the series stopped filming but it was nice to see the animals we'd seen on telly living happily.
We tried our hand at rope making (not a trade we appear suited for...) and got the chance to try on some period clothes, not sure I'm suited for them either...
Today we're off for a nice long walk along the costal path, then a drink or two on the pub all being well. Then it's home tomorrow and back to the real world where no doubt the weeds have been growing...
- Posted using BlogPress from my iPhone